Annie
Posted on April 16, 2019 by admin in Cats.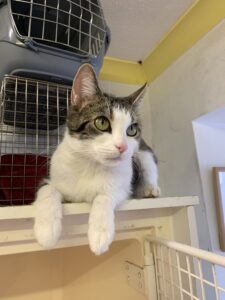 Annie is 1-2 years old. She was found with her babies and unfortunately not very well looked after, and very skinny. Her babies were cared for elsewhere and we took in Annie. Annie has seen the vet a few times to try and help her gain weight, and also try to help the hair on her back legs grow back. She is gradually getting better and was finally strong enough to be neutered last week. Annie is very sweet and loving unless you put her in a new environment or try to pick her up. She doesn't like to be made to do anything she doesn't want to do. She would require a adult only home or a family who have experience with unpredictable cats. She would be a great cat when she settles in and also when she is able to have her own space. She can get very stressed out here because she hates all other cats. So would have to be an only cat.
Annie will begin her vaccination process very soon, so we are now happy to reserve her.