Aurora
Posted on March 2, 2020 by admin in Cats.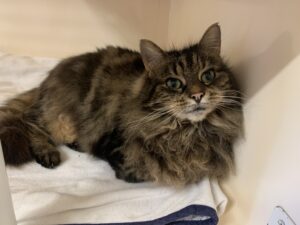 Aurora is our newest resident and she is so FLUFFY!!!!!!. Aurora is estimated at 3-5 years old and has come into rescue after living inside a shed for the past couple of months. Aurora is stunning to look at and is a little chatter box, she is always making some kind of noise whether it is a meow or a chirp. She loves head scratches and will roll over as soon as she gets your attention. She is a cheeky girl though and wont hesitate to hit out at you if your not giving her enough attention or even if you give her too much attention! She is such a lovely little character and will be a great addition to her new family.
Aurora doesn't like other cats so we will be rehoming her as an only cat, and also due to us not knowing much about her history she will not be rehomed to a house with any children under the age of 10.
Aurora will be spayed, vaccinated and chipped before leaving us. She will be ready to go at the end of March.