Billy
Posted on September 19, 2017 by admin in Cats.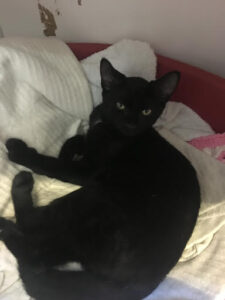 Billy is one of five feral kittens we have at the Heatons.
All of them are now 16-18 weeks old. One of his sisters has already been rehomed, and now it's Billy's turn! He is still weary of strangers but when he is in bed he loves being stroked and will purr to show his affection. He would suit an experienced cat owner who can give him the time and effort he needs as he is going to eventually become a very loving cat.
Billy would need a secure home that can keep him indoors for a couple of months whilst he settles in because he was feral he would need that extra time to adjust and know that he has a home to go to instead of staying outside. He would be best suited to a family with older children, or young couple/older couple who can play with him and keep up with his energetic side.
Billy is all ready to go, as he has been neutered, vaccinated and chipped.