Biscuit (5 years old): RESERVED
Posted on April 29, 2020 by admin in Cats.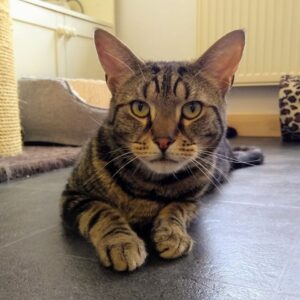 As you can see biscuit is a big boy but is the softest cuddly cat you could ever wish to meet. He is super vocal and will be sure to let you know if he isn't getting enough attention. Biscuit has Epilepsy and so has to have medication twice a day. It's a small tablet to be given in the morning and in the evening. So ideally he will be able to go to someone who is used to medicating a cat or someone who already has a cat with the same condition.
We would be looking for an indoor home for biscuit or someone who has a cat proof garden so he can go out safely without wondering off. He can have seizures which we feel is a reason for him to be somewhere safe at all times. He is very good at taking his tablets having had them from such a young age. This condition doesn't limit his life in any way it is just a condition he has to live with but the medication helps to keep everything in check.
Biscuit is ready to go. He is neutered, vaccinated and chipped.