Bobby *rehomed 16/9/17*
Posted on September 11, 2017 by admin in Cats.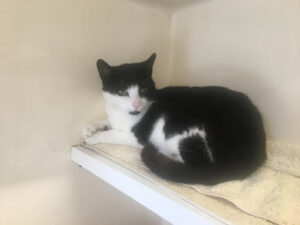 Bobby is a 3 year old male, he had been living as a stray for a year before coming to the heatons. He is a lovely natured cat who will have a cuddle and a fuss whenever its possible. He shows his affection by rolling over onto his belly and getting you to fuss his even more. He has big, beautiful green eyes that melt your heart every time he looks at you.
Bobby would adapt to most living situations all he would need is an owner who is going to love and care for him and all of his needs.
Bobby will be neutered, vaccinated and chipped before leaving the heatons.