Crystal (1-2 years old) (RESERVED)
Posted on January 27, 2020 by admin in Cats.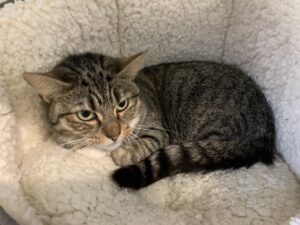 Crystal was found outside as a stray and came into us with her kitten who has now been reserved. Crystal is slowly getting used to her new surroundings and is trusting us more and more everyday. She is such a pretty girl who has now been rescued from the streets and given a chance to be loved by someone properly. Crystal has a lovely little personality and to this day she hasn't hissed or lashed out at anyone, all she does is hide her head at the start but once she knows your not going to hurt her she relaxes when you are stroking her. She would need to be adopted by someone who lives in a quiet home with adult children.
Crystal will be ready at the end of February. After she has been spayed, vaccinated and chipped.