Gizmo
Posted on February 25, 2019 by admin in Cats.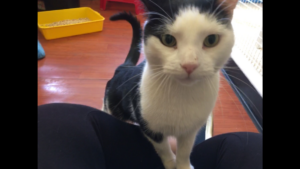 Gizmo is a handsome 2 year old black and white male. He is so loving with humans and once you let him out of his cage he will be somewhere around you waiting for your attention. He loves to climb on people and head butts you constantly. Gizmo comes from a home with multiple cats however it has been advised that he should be rehomed as an only cat.
Gizmo will start his vaccinations soon and is already neutered. So is almost ready for his new home.