Harvey
Posted on September 19, 2017 by admin in Cats.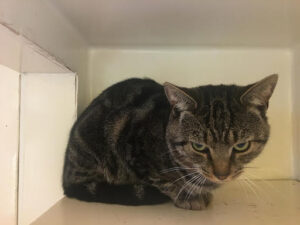 Harvey is a very new addition to the Heatons family. He has been a stray who has been fed by two ladies, who unfortunately couldn't look after him themselves. He is approximately 1 years old, and has a lovely temperament. Harvey is also very affectionate and loves rubbing himself all over you! He has a gorgeous coat with amazing tabby markinsg, and would make an amazing pet to someone who can appreciate him and give him all the love and attention he hasn't yet had in his short life.
Harvey would suit any household; we are unsure how he would be with children, so to be safe he should be homed with older children, or a couple with lots of house space, and also garden space for him to make his own.
Harvey still needs to be neutered, vaccinated and chipped before entering his forever home.