Hettie **RESERVED**
Posted on May 21, 2019 by admin in Cats.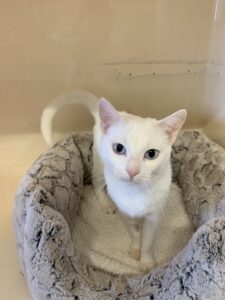 Hettie is another retired mummy. Having been rescued from a house with multiple un-neutered males, Hettie has had at least 2 litters in her short life, but thankfully she will have no more. She was such a wonderful mum but now she can live a life for herself. Hettie is very playful and not surprising since she had to mature so fast. Hettie is a big kitten at heart and loves to play with everything and explore everything around her. She is also super cheeky! Her new owners will be so lucky because they will have endless laughs watching her. Hettie also has the most beautiful blue crystal eyes. She is one of the prettiest cats you will ever see.
Hettie has been neutered, chipped and has started her vaccinations so is now ready to be reserved!