Jet *rehomed*
Posted on September 18, 2017 by admin in Cats.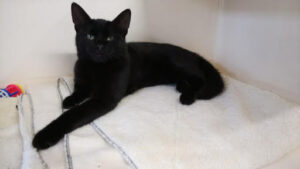 Pictured here looking pretty relaxed, Jet is a friendly 9 month old male. He came to us as a stray.
Jet is very friendly and playful – he especially likes to receive belly-rubs. He is quite small and still has a bit of growing to do!
So far, he doesn't seem to like other cats, so would be better suited as an only cat.