Luke
Posted on March 18, 2020 by admin in Cats.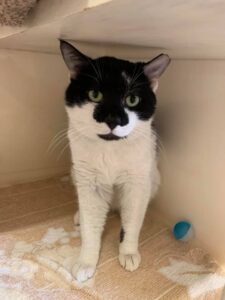 This stunning chap is Luke. Age is unknown but we are ageing him between 3-5.
We rescued Luke from a feral and stray life with the thought of releasing him back to his chosen habitat (hence his ear being clipped). But we were amazed when we heard him purring and allowed us to stroke his beautiful head. He let us brush him and groom him (he was so dirty!! His white fur was grey). The first moment we heard his wonderful purr we knew we had a keeper!! And we are confident we can find him a new loving home all of his own which we couldn't be happier about. We will not be willing to rehome him to a house with any young children. But he will be so thankful and loving towards his new family and we can't wait to find that for him
Like has been neutered, and will be chipped and vaccinated before leaving us.
Ready end of April