Maggy and Mabel
Posted on February 19, 2019 by admin in Cats.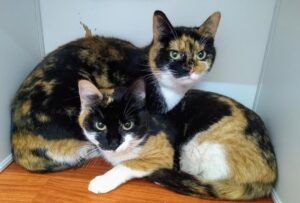 Maggy and Mabel are 2 year old females. They were rescued by the Heatons when they were kittens and re-homed, unfortunately that hasn't worked out, so without and hesitation we have taken back these gorgeous girls and now trying to find them a new home. These two are so friendly and love any attention from us humans, they make such a gorgeous pair and will add so much love to any one who takes them. They are used to being outside with lots of greenery and woodland so we would prefer to re-home them somewhere similar, so that they have the space they are used to.
Both are fully vaccinated, neutered and chipped all ready to go.