Melissa **RESERVED**
Posted on January 27, 2020 by admin in Cats.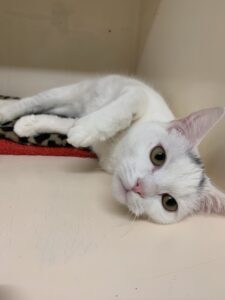 Melissa is now ready to be reserved. She is 7 months old and such a beautiful girl with such a cute face. She is such a relaxed cat who loves to be cuddled and stroked and will roll over onto her belly whenever she gets any attention from you. She deserves to be treated like the princess she is, so we will be looking for the perfect family who will treat her as such. She would be a great addition to any family and would be great with children over 5 years old.
Melissa has been spayed and is now waiting for her vaccinations so will be ready to go at the end of February.