Molly **RESERVED**
Posted on March 18, 2020 by admin in Cats.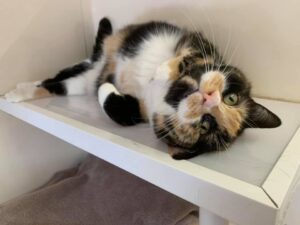 This upside down beautiful tortie is Molly. She is 4 years old and came into us after being left outside in the cold after her owner sadly passed away.
Molly has had her little life turned around after losing everything she had. But she is adapting to her new life with us very well, she loves humans so much and as you can see from the photo she loves to flop over and show us her chunky belly. She loves head and chin rubs as well. She also has an amazing little purr that comes out once she knows she is going to get attention.
Molly is neutered and will be getting vaccinated and chipped before leaving us.
Ready to go early April