Nala **RESERVED**
Posted on February 1, 2020 by admin in Cats.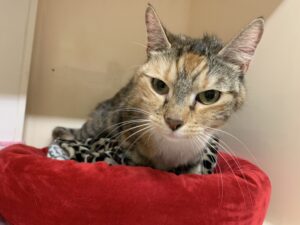 Nala is a beautiful tortie, tabby mix and she is 3 years old. Nala came into us last week and was straight to the vets to be spayed, she has recovered nicely and is such a sweet girl. She craves your attention as soon as she sees you and is very vocal about it, but once she gets the attention she settles down and really enjoys having your company. She is such a pretty girl who deserves a wonderful furever home, with her new owners who will appreciate how amazing she truly is.
Nala has now been spayed and chipped. She will begin her vaccinations very soon and so she will be able to leave us here at the end of February.