Ophelia **rehomed 11.09.17**
Posted on September 4, 2017 by admin in Cats.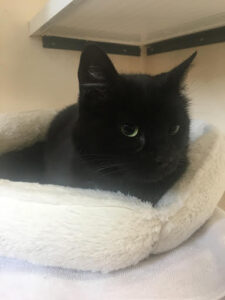 Ophelia is all black with a small white patch on her chest. She is a chunky cat but very cuddly, and is super friendly. She is new to the heaton's but is settling down and becoming more confident. She enjoys a stroke and attention from us but at the moment she is more interested in exploring her surroundings. Ophelia would be best suited to a family, couple or individual who can offer her a quiet home with lots of love and attention. She would need a garden that she can explore but also a lovely home to come to where she can feel warm and safe.
Ophelia is neutered, fleed and wormed, before leaving us here she will be vaccinated and chipped.