Pearl **RESERVED**
Posted on July 25, 2019 by admin in Cats.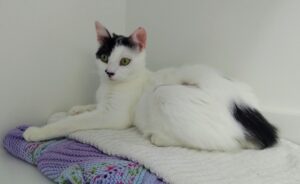 This is Pearl, she is the lovely mum of Hamish, Henrietta and Holly (see our kitten page). Pearl was brought into the sanctuary pregnant and after giving birth and bringing up her three babies she now needs someone to care and look after her. Pearl is estimated to be in the region of two years old and is super friendly with everyone she meets. Pearl loves attention, being stroked and cuddled and always wants human contact, so much so cleaning her pen becomes a bit of a challenge if you dont fuss her at the same time.
Pearl has recently been spayed, she is vaccinated, flead, wormed and micro-chipped. She is ready now to find her forever home.