Spike (Currently our longest resident, needs to find a new loving home)
Posted on April 16, 2019 by admin in Cats.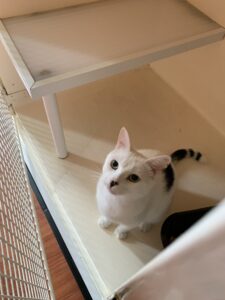 Spike is 11 months old and came into us with some rather nasty war wounds from fighting with other un-neutered cats in his area. With a visit to the vets we were informed one of Spike's wounds had become an abscess but luckily it had not burst yet so we were able to drain the infected area and treat with medication (in his photo you can see where his back has been shaved, this is the site of the wound). Even though spike has been medicated and in pain he was such a loving boy and was always putting his head on you for chin rubs.
Spike has lived with children in his previous home, but as always no under 5's. He grown a lot in confidence since we first took him in and can now be quite cheeky. He would make a great first pet, or be a loving companion to someone who is experienced and had many cats. He would need a safe and secure home with a garden, as he loves to be outside.
Spike has now been neutered, vaccinated, flead, wormed and microchipped and is ready for his new home.