Alex
Posted on March 12, 2019 by admin in Kittens.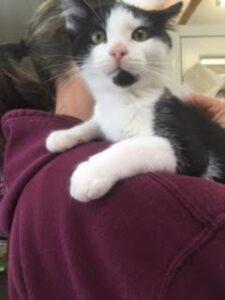 Alex is a black and white 14 week old male. He has the cutest meow when he wants your attention, and is quite talkative. He also has a super loud purr and will start purring as soon as you look at him. He is one of three and definitely the cheekiest, as soon as you open their cage Alex is out trying to find something to play with. He is a little fur-ball of energy and because of this he needs a home with people who can keep him entertained, so he doesn't become mischievous.
Alex is just waiting for his second vaccination before he goes to his new home.
It will be his new owners responsibility to neuter him at 5/6 months old.