Charlie, Tilly, Ted and Adele
Posted on June 14, 2019 by admin in Kittens.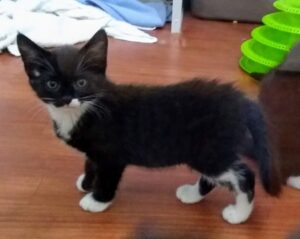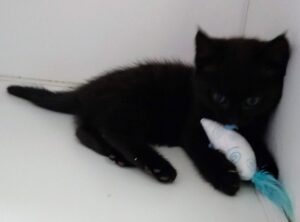 Charlie, Ted, Tilly and Adele have been at the sanctuary a couple of weeks and they are almost ready for their new homes.  All four are very loving, want to be handled and cuddled all the time and purr so loudly you cant believe the sound is coming from such small kittens. They are 9 weeks old and are just about to have their first vaccinations.
Charlie is the little cute one who looks like he has a white moustache hes a real character and looks very loves to be stroked and fussed.  Ted and Tilly are very much alike and its quite difficult to tell them apart, they both have very similar markings and both are very confident kittens they love to play and be held. Adele is all black and if you can tear her away from her little mouse will give you endless cuddles. Beware anyone who tries to take her little mouse from her.
We are now taking applications for all four kittens, if you think you could give them a loving home and meet with the requirements on our rehoming policy please give us a call.