Ella and Nell *reserved*
Posted on March 12, 2019 by admin in Kittens.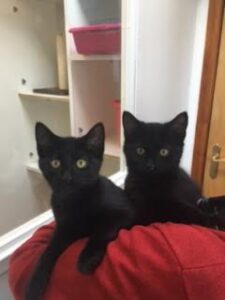 Ella and Nell are the sisters of our beautiful Paddy. They are 12 weeks old all black females. Ella and Nell were the runts of the litter always smaller and weighing less than there brothers. Little Ella was rather poorly when she was about 4 weeks old and required around the clock veterinary treatment, but soon bounced back. There is not much difference between these beautiful girls, except one of them purrs and one of them doesn't. These girls love attention and cuddles and also love each other which is the reason these two come as a pair.
Ella and Nell are all ready for there new homes.
It will be the new owners responsibility to neuter these two at 6 months old.