Paddy **RESERVED**
Posted on February 25, 2019 by admin in Kittens.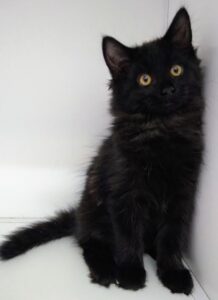 Paddy is our fluffy 12 week old kitten. He is from a litter of 6 kittens. There mum pixie (who has now been rehomed) ran out of milk when the kittens were 4 weeks old and as a team we support fed all of them. Paddy struggled the most with switching from his milk to kitten food, and when all of the other kittens were eating he would jump up at you waiting for you to hand feed him from his bottle. Eventually he got the hang of it though and is now a great eater. Paddy is such a lovely little fur ball who loves cuddles and a fuss all of the time.
Paddy is very fluffy so he will need an owner who is able to keep on top of his grooming to make sure he doesn't get matted fur. Paddy is all ready for his new home as he has already had his vaccinations and been chipped. Once Paddy is with his new owner it will be their responsibility to neuter him at 5-6 months.