Seamus + Liam
Posted on May 21, 2019 by admin in Kittens.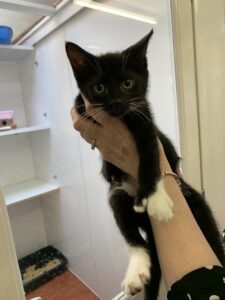 Seamus is the last one left from a litter of four. He is approximately 12 weeks old. Seamus is poly-dactyl, which means he has extra toes on his paw pads (as you can see in the photo).  His mum Celeste, and his brother are also poly-dactyl. Seamus is such a purr monster and will lay in your arms all day letting you cuddle him. He loves to have snuggles and will meow at you until he gets you to snuggle him. He is also a little explorer and has escaped out of his pen a few times with the help of his cheeky brothers.
Seamus is all ready to go, and will go to his new home fully vaccinated, chipped, flead and wormed. It will be his new owners responsibility to neuter him at 5/6 months old.