Cromwell *was Hayley*
Posted on May 23, 2016 by admin in Success.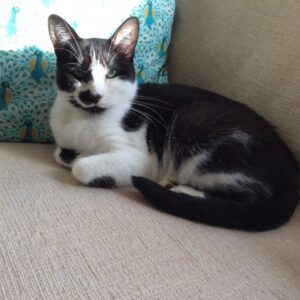 Hello
I've been meaning to send you an update since Cromwell (was Hayley) came to
live with me in January this year. She made herself at home right away and
settled in well – she completely rules the roost and I couldn't be happier
(even when she's jumping on my head to wake me up at 5am!). She's very
friendly and affectionate and loves playing with her toys, especially balls
and mice! She also loves Dreamies! She's been a really positive addition to
my life so if anyone reading this is thinking of adopting a cat – I'd highly
recommend it.
Many thanks
Fiona