Jigger and Marley
Posted on September 3, 2019 by admin in Success.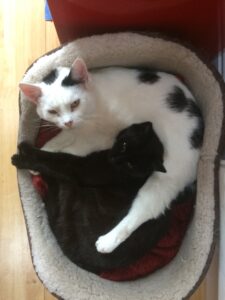 Hi Heaton Cats
I just wanted to let you know after nearly years how Jigger and Marley were getting on.
Not sure if any of you would remember them, but they had been at the rescue for nearly 18 months (I think) when we homed them, so maybe you will.
They are both very happy & still often sleep together as you can see in the photos. Both are well loved & celebrities amongst our family and friends (especially Jigger!).
Many thanks.