Lucy
Posted on February 20, 2017 by admin in Success.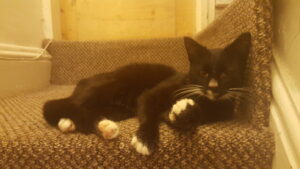 Hello,
Just wanted to send over an update about Lucy, whom we adopted last Thursday. She is settling in well, sleeping and eating lots, and an absolute furry bundle of affectionate joy. We're so pleased to share a home with her!
Please find attached a few photos of her.
Thank you again to your staff for accommodating her adoption and for caring for her.
Warm wishes,
Rae & Ash