Mollie was Bubbles
Posted on August 29, 2015 by admin in Success.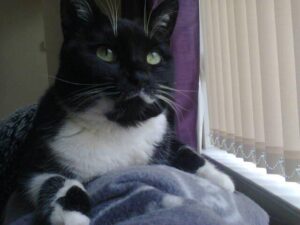 Hi,
Here is a recent photo of Mollie (formerly Bubbles) who I adopted from you on 04/01/14.
She is a very loving cat  with a big personality and has become well known around the neighbourhood because of her curly tail. She sleeps cuddled up
next to me on my bed and looks very grumpy when I go to work (or is thatme?).
Adopting her is the best thing I have ever done.
Thanks so much
Louise