Mollie-was Bubbles
Posted on March 7, 2014 by admin in Success.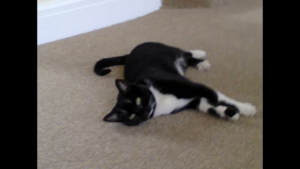 Please find enclosed a picture of my lovely Mollie (was Bubbles).
I adopted her on 04/01/14 from  The Heatons.
She is gorgeous-very affectionate and playful-loves to play with a ball with
a bell in and likes even better if I play along.She also loves chasing the
laser pen and nature programmes on TV with animal noises!!-although not dog
noises.
She has her owns half of the sofa with her own cushions.She loves
cuddles,sleeping on my knee and my bed of a night.
Mollie would sell her soul for dreamies!
I am so grateful to you all for bringing us together-she is such good
company and I love her and am enjoying spoiling her!
Thank You so much,