Tilly
Posted on September 3, 2017 by admin in Success.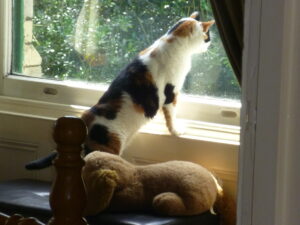 Just wanted to update you on Tilly who came to live with us about 6 weeks ago. She is completely adorable. A house cat who was very quiet and nervous when she came to us she is growing in confidence with every day that passes. She happily jumps up for a cuddle and is now very vocal

She will always be a little nervy with her sometimes being startled by her own shadow. She is clearly a very affectionate cat who likes nothing better than stretching out full length, having her tummy rubbed and tickled and doing a paddling motion with her front paws!
She loves being able to look outside but has no inclination to go out into the big scary world! Bless her and she loves to cuddle up on the window seat with the cuddly brown dog.