Eve
Posted on September 10, 2019 by admin in Cats.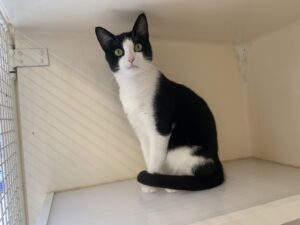 Eve is the mum of Finlay, Cameron, April and Dexter who are currently also up for adoption. Eve has the Feline Coronavirus, and is semi feral. Eve was rescued from a shed with her beautiful babies, when we were looking after her babies Eve came around to us and would let us stroke her head because she knew we were helping her. Since then Eve has been to the vets a lot and was very ill after a spay and had to stay in the vets for a few days meaning all the progress she made was unfortunately forgotten when she returned. If Eve was to be rehomed to a patient and caring owner we believe she could be transformed into a happy domesticated cat, she loves it when you talk to her and purrs away until you try and stroke her. Eve has the Feline Coronavirus so she would need to be an only cat unless the current household also has a cat with the Coronavirus.
Eve is ready to be rehomed. She has been neutered, vaccinated and chipped.