April
Posted on September 3, 2019 by admin in Kittens.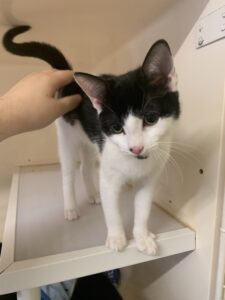 This our beautiful April, aged roughly 7 months. She has  Feline Coronavirus. This is most likely passed to them from her mum who also has it. She is perfectly healthy, and does not need medication for this and it shouldn't stop her living a normal life. However we will not rehome her to anyone who hasn't read up about the Feline Coronavirus. 
April was rescued from a shed, which was filled with wires and broken glass, not the ideal place to be born, but her amazing mum cared for the kittens so well. April is an  intense purring machine and loves so much to be cuddled and fussed over. She is energetic and affectionate, and will make a great pet.