Wendy, Willow and Wren (4 months) (ALL RESERVED)
Posted on April 29, 2020 by admin in Kittens.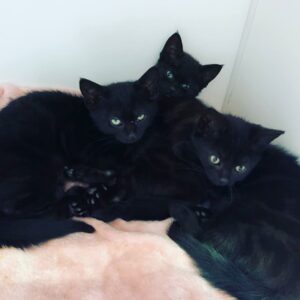 This beautiful trio of identical kittens are the cutest. They are super cheeky and always up to mischief if you here a bang you can guarantee it's them and it's either the water or the biscuits that have been knocked all over the floor. There will never be a dull moment once you adopt one of these pretty girls. They also love snuggles and have the loudest purrs even though they are so little.
All three girls are ready to go and will be vaccinated and chipped.