Marigold
Posted on October 9, 2019 by admin in Cats.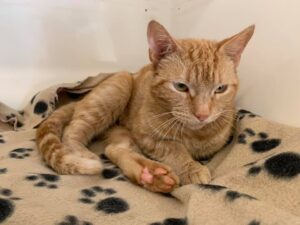 Marigold is the stunning mummy of Tom, Harry, Mango and Alana. She is stunning to look at and is such a scaredy cat at the moment. She is slowly coming out of her shell, and becoming more confident. She loves her head and behind her ears being scratched. She doesn't like new people straight away but once you show her you are not going to hurt her she warms to you. Marigold would need a quiet home, where she can grow into the wonderful cat she deserves to be and be loved by her new family.
Marigold is no older than 2, she has almost finished her vaccinations and once they are done she will be neutered before heading off to her new home.