Lucy
Posted on December 16, 2019 by admin in Cats.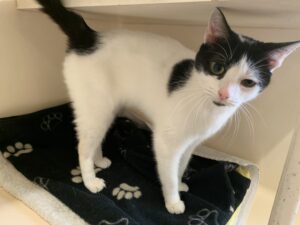 Lucy is around 1-2 years old. She was found in a shed earlier this year with her beautiful babies (if any of you remember Panda who we lost due to him not growing properly this is his amazing mum).  Lucy has been with us for so long because after caring for her babies so well she became very run down, upon examination it was discovered that Lucy had terrible teeth and all of them except 4 had to be removed. This doesn't affect her though and she still eats normally, the reason for the teeth being extracted was suspected calicivirus. After Lucy recovered from this she then became very stressed and started to over groom herself resulting in sore patched on her body, again another visit to the vets and she was given a steroid injection which meant she couldn't now have anything done to her for another 6-8 weeks. We took Lucy for her check-up last week and we were finally given the all clear to vaccinate her which made us all very happy because she deserves to find her own home. Lucy will get her second vaccine at the end of December and then will be spayed in the new year.
Lucy is such a sweet, gentle girl who loves to come out of her pen and play with all the toys we have lying around. She would be great for a first time pet because she is so loving. She would also be great with children over the age of 5. Lucy has had a tough time whilst she has been here with us but things are looking good for her now and we would love to find her the perfect home. We need someone who is going to love her and care for her as much as we all do here and someone who will treat her like the princess she has become. She is such a stunning girl and is beautiful inside and out.
Lucy will be ready in January.