Tilly
Posted on November 27, 2019 by admin in Kittens.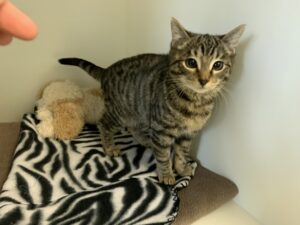 Tilly is our beautiful 4 month old tabby. Her mum was found just after giving birth outside but despite our best effort Tilly was the only kitten to survive. Her mum has been adopted by one of our volunteers and now its Tilly's turn. Because Tilly has been an only kitten she is very spoilt and naughty. She loves to play and run around but will only stop for cuddled once she has used up all of her energy, she would need an experienced owner who can help teach Tilly wrongs and rights, since she never got to learn it from any siblings. Tilly is such a pretty little girl and would be great going to a house with another resident cat so she has someone to play with.
Tilly is all ready for her new home.