Amber
Posted on November 16, 2019 by admin in Cats.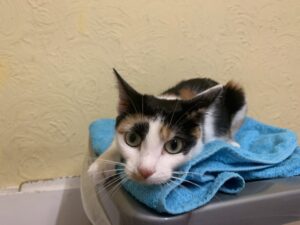 Amber is our gorgeous tortie, aged about 18 months.
Amber has had three kittens, who have all been rehomed, and she is now looking for her own permanent home.
She is super friendly, and would be fine with older children or calm other cats. Amber should be ready by mid December, once she is spayed and vaccinated.
She loves human company, and will purr for hours if you play with her and cuddle her.