Bella **RESERVED**
Posted on November 27, 2019 by admin in Cats.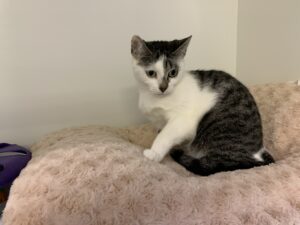 This is Bella,
Bella is 1-2 years old and was brought in as a heavily pregnant stray. She was such a good mummy but having five babies took a lot out of her. Bella was very underweight and we had to separate her from the babies quite early so that she could improve. Bella has recently had a dental and only has four teeth left, and after tests were done it was confirmed that Bella has the Calicivirus, this means that for her the virus wont be a problem anymore because her teeth have already been removed. However Bella will have to be an only cat with there still being a risk the virus could spread.
Bella is such a loving cat who cant wait to get out of a pen and live in her own home. Here at the Heatons she loves to sit on the window ledge and watch the world go by.
Bella, is still waiting to be vaccinated and spayed so will not be ready until January.