Rascal **RESERVED**
Posted on December 16, 2019 by admin in Cats.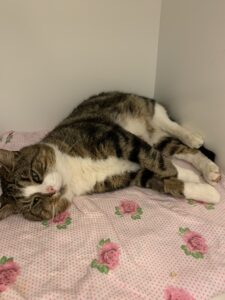 Rascal found his way to us at the Heatons. He appeared one day for food and we got into a nice routine feeding him every morning and night, He slowly began to come closer to us and it began our mission to trap him on the hope we could get him neutered and then release him but continue to feed him and take him to the vets. Anyways, with him becoming a cuddly teddy bear we are now looking to find him his new furever home and we are so happy about it. He is such a big boy but so sweet and will make such an amazing companion. He loves being inside where he can be fed all the time and be warm at night times with his comfy and soft blankets. We will be looking for the perfect home for Rascal someone who will love and care for his needs and show him that he can have a loving home to call his own.
Rascal will be ready in January, he has been neutered and chipped, and will be fully vaccinated before leaving.