Salt **RESERVED**
Posted on December 16, 2019 by admin in Kittens.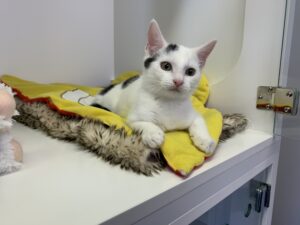 Salt is male and is now around 14 weeks old. His mum was rescued as a stray and had her babies, the other two and mum were kept by the finder and we agreed to help find little salt his new home. Salt can be a bit scared of the other cats but we are slowly introducing him to them and he is getting much more confident.  He loves cuddles and kisses and will roll over and show his belly to you, he also loves to play with all of his toys especially ones that move around that he has to chase. Salt will suit most homes and would also be great with children over the age of 5. He loves humans so the more attention he can get in his new home the better and we are sure he is going to grow into a loving lap cat.
Salt will be ready in January.