Hank and Selina now Frankie and Izzy
Posted on February 24, 2020 by admin in Cats and kittens adopted.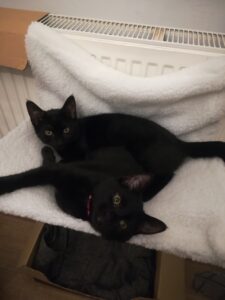 Hank and Selina were born in rescue on the 21.09.2019 and were rehomed on the 17.01.2020.
" Frankie and Izzy are well settled in now. They follow each other around and purr constantly. They get up to all kinds of mischief together around the house then tire themselves out and curl up to sleep together. Frank loves cardboard boxes and Izzy likes to be the centre of attention at all times!
Thank you so much for taking such great care of them and bringing them up to be such lovable, affectionate bundles of joy. "